Blog #4: You Know Your Dress is too Short When . . . | kathryn1985's Blog
---
Downtown Fort Myers, City of Palms, Cinco de Mayo spirit in the air, brick-paved and palm-lined streets. A bit of a breeze coming off of the Carloosahatchie River to cut into the humidity. It's 6:30 and music is already humming from the town square free concert.
My fiance and I have other plans and scoot over to "Yanos", a 'we-are-cool' restaurant tucked away in one of the art deco buildings that were built with a flourish 90 years ago, fell into disfavor, given a lift and cosmetics post-war, fell into disfavor again and reemerged sunny once again in the ongoing renewal of the past five or so years. After two glasses of a chilly chardonnay (one more than my wussy limit), I pecked at a slab of swordfish and finished half; none was wasted after the vacuum cleaner that sat opposite me gave it his attention. 
Plenty of time before our show and we explored the Franklin Shops on First Street . . . two floors of local artists and clever vendors . . .  with all sorts of cute stuff. On the way out and just past the ornate shop front the fiance puts a coral blue and silver beaded bracelet on to my wrist. The $8 price tag still attached. He gets a kiss and a hug but really enjoys the game and my little surprise. How the hell did he . . . ?
A short block walk to the arcade theatre where, as a sign quietly explains, Tom Edison, Henry Ford and Harvey Firestone caroused, drank and thought. Ford and Edison, close chums a hundred years ago, shared nearby winter homes that were attached by a walkway. They also, as the guide will say, shared innovative ideas, innovations such as a heated swimming pool, "air conditioning," an electric-powered sauna . . .  and their wives.
We saw a rib-splitting funny farce of a play, "The Mystery of Irma Vep," where two actors played eight roles. Lightning quick costume changes, a story line that included werewolves, vampires, killers, a mummy, a trip to the Egyptian desert, cross dressing galore and lust oozing every minute made it hysterical. 
Oh yeah, you know your little black dress is too short when the eight-year old holding the hands of both parents right behind you on the street says plenty loud, "Mommy, I can see that girl's tushy."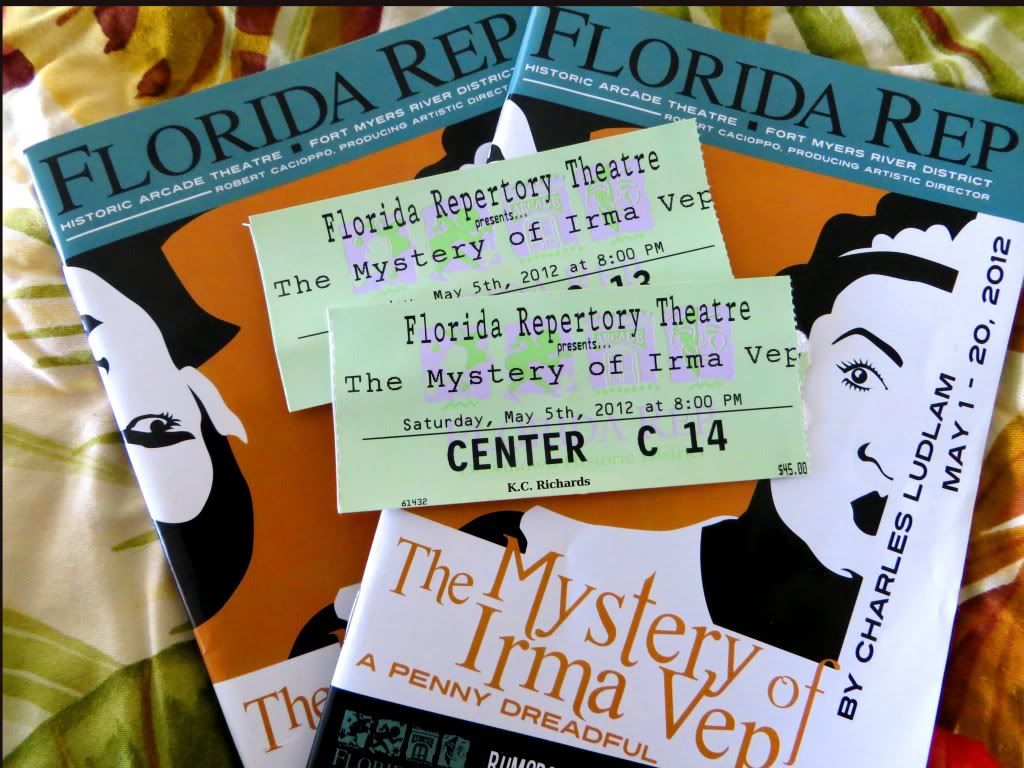 " />
---
lucky kid.

moreover. I have always admired the amount of detail, ambiance, and historical and geographical context you weave into your stories. I have always endeavored to push my writing more in that direction.

RKHunter

Sounds like a wonderful evening out on the town with your love. And let's face it, there is nothing sexier than the little black dress. Good times and I hope you both enjoyed the beads.

Kathryn1985

My thinking too BG. Women go out of their way to try and look good yet few will ever attempt a compliment let alone state exactly how they feel. Takes an unknowing kid, huh, to say what his dad and probably his mom were thinking.

The kid prolly got an elbow from his dad as dad was enjoying the view.
And as nudie says you cant beat a hot woman in her little black dress.

Kathryn1985

Next time try this . .. simple, effective and unforgettable . . . when the opportunity arises: "You look great."

The kid's dad was probably expressing an opinion about your tush non-verbally ..... ;)

I would give anything for a life such as yours Katie. There are no '' soho " streets in a small town. Wal-mart is just not the same.... and you might as well forget that little black dress unless you thoroughly intend to give these "bible-belters " a heart- attack.

Totally agree Kathryn, when out on the town with your sweetie, and she's looking mighty fine, tell her how hot she is. Children are so honest and real. It's great to get the 411 from them, and make us laugh! My gf is the apple of my eye, and wherever we go, I tell her. She says I'm blind and crazy, all the while smiling from ear to ear. I know what I see, that's all I need to know. Here in NC, have to travel a couple hours to find those kitschy shops, boardwalks and the like. But those type of evenings/weekend jaunts are the best. Fun, relaxing and full of keepsake memories. Not to mention running down the path to the beach. Yowza!!!

Oh dear. I love how honest children always are, and how they tend to both make things light-hearted and humorous. And that's to say nothing of just how good they are at putting things into perspective!

Little boys do have some of the best lines of sight available....and the art of catching a peak is something many men learn early and practice the rest of their lives. I think it is great that there are women who know we look, and enjoy setting us up for the occasional "caught you looking, but it's okay smile"......so say yes to the dress!

he he he...i wouldn't have said that, I just would have had to check what that tushy was wearing underneath...and then maybe a lil more...ok, maybe not on the street...maybe i'd have to follow you like a stalker, but that is less creepy when it comes from a hot chick than a creepy old man, eh?

I agree with Memphian on this one. Men have a refined art tucked away and the woman who knows it can reap many benefits, including confidence.
By the way, a girl's guy knows it too and is damned proud to have her in his world.

KT if I were your guy, you'd have to tell me to shut up I'd have you so swimming in compliments about how gorgeous you are! But you don't want that either. It'd get "old" fast.
But whatever you do, please don't stop being the glorious creature you are or us members of your fan club would be crushed.

It is so much fun to read your wonderful, descriptive writing , on my old home, Ft Myers...! And, yeah that was a lucky kid,behind you!

Add Comment
Previous Posts
Blog #11: Venus & Mars in Orbital Alignment,

posted April 12th, 2013, 5 comments



Blog #10: Fools Rush In,

posted February 28th, 2013, 7 comments



Blog #8. "Is",

posted February 15th, 2013, 6 comments



Blog # 7: Of Self-Confidence, Self-Esteem and the Growth Progression of a Backbone,

posted November 28th, 2012, 11 comments



Hot Air Released,

posted November 5th, 2012, 11 comments



Blog #6: Where Lust is Wrong: The First Amendment Between My Legs,

posted July 7th, 2012, 7 comments



Blog #5: See No Evil. Hear No Evil. Speak, Taste, Lick No Evil.,

posted June 19th, 2012, 8 comments



Blog #4: You Know Your Dress is too Short When . . .,

posted May 6th, 2012, 14 comments



Blog #2: Doing that "In-Law" Thing,

posted May 1st, 2012, 13 comments



Blog #1: Where do tears come from?,

posted April 8th, 2012, 16 comments




Blogroll

Here are some friends' blogs...

Help
Embed Photos
Embed Videos
Caption of the Day
Today's Image:

A fun new caption image each day. Winners get trophies and points.
Play and Vote Now!